Beauty, we want it or not, is one of the most important features when it comes to a person image. Of course, you can be very cool, funny, stylish and not very handsome but we can't deny that when someone is physically beautiful, life is a lot easier in many senses. When it comes to girls, beauty tends to be easily identified since cannons are very specific. But when it comes to men, it actually is quite abstract. But what is definitely a hint is that the taller he is, the more handsome. And that's why height increasing shoes are your secret for looking handsome.
Why are elevator shoes for men so useful?
Unlike other features as face, body, hair and even eyes, there's no natural or surgical way to change our height. We are as tall as we are and, if we're men, this affects our appearance very much. When men are tall, confidence and authority come natural and undoubtedly, these are some very appealing virtues in a man. But then again, how to increase our height without standing over a bench all the time? Well, that's why elevator shoes for men are so useful. Practically invisible, this particular accessory can complement not only your height but also your style, since there's all kind of elevator shoes for men available.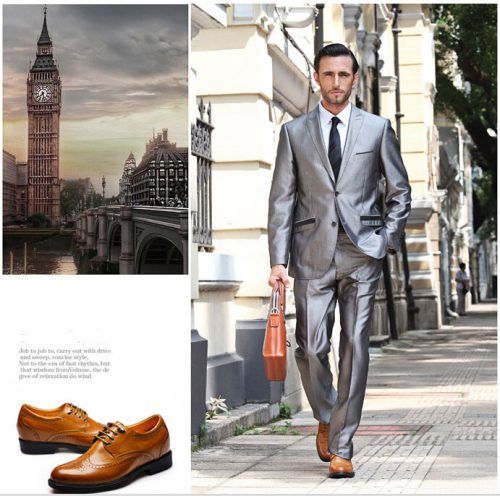 Which are the best height increasing shoes for men?
When looking for economic and quality elevator shoes for men, there are some factors that we must consider to make absolutely the right choice. First of all, we must choose a brand that is specialized in this kind of shoes so we're sure that they're comfortable, discreet and beautiful. Also, we must think carefully about the occasions we want our new height increasing shoes for; it is important to determine if we want formal shoes, casual shoes, training shoes or whatever reason we have to wear the secret for looking handsome, on our feet. In that matter, we need a store that can actually offer this variety of models and not only formal elevator shoes for men, for example.
In AttixShoes, we're committed to creating economic and best quality height increasing shoes for men. Because we understand that men always point high, we believe in helping those who want to get even higher. Rest assured that we offer best services that will give your life a change and a boost to your self-esteem.
Why is AttixShoes your best choice to look tall and handsome?
If you want to see you taller then you've reached the way. Our shoe collection includes all kind of height increasing shoes for men: boots, formal, trainers, clearance and casual, so you won't have any problem fitting your outfit with your elevator shoes: there's one for any occasion. Besides our beautiful models, we assure top-technology that will grant a very discreet, comfortable, and non-impact pair of shoes at a very competitive price, since we believe in economic and quality manufacture. And if that is not enough, we also offer the fastest delivery in the UK and Worldwide so you'll be sure to have your elevator shoes and the key for looking handsome just when you need them.